Enhance your panels finishing with HMPUR coating!
In the last few years, the use of Polyurethane Hot Melt adhesives (HMPUR) has grown up in many industrial fields.
They present a mix of significant benefits compared with traditional adesives:
Continuous work eliminating traditional pressing time.
Possibility to work almost immediately the laminated compound; no need to add a static press operation after the gluing process; a simple press calender is used instead. The line lenght can consequently be reduced.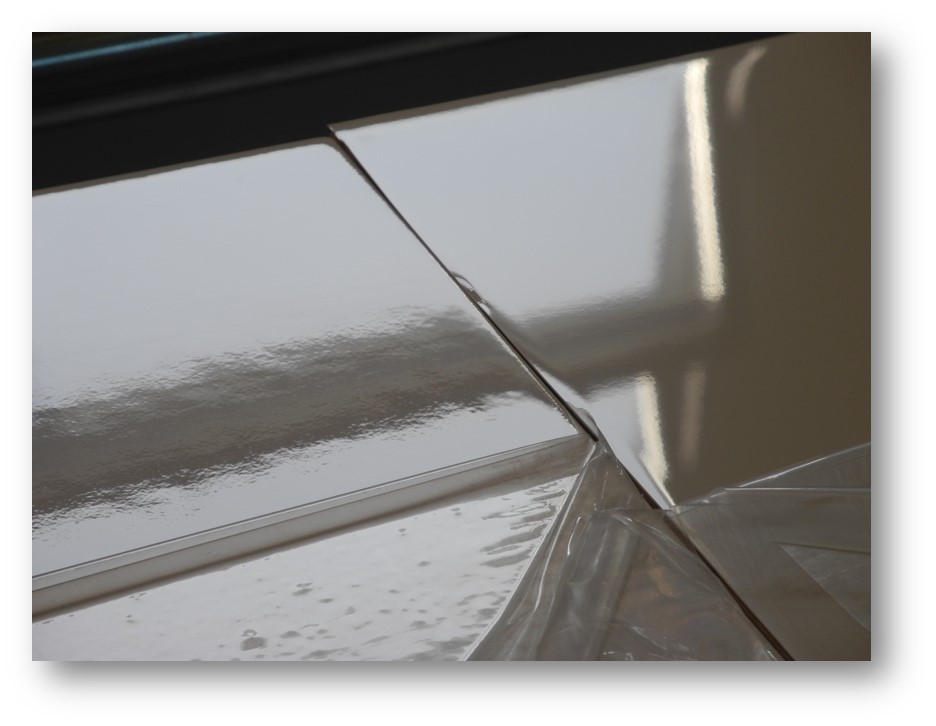 Hot Melt PUR bonding provides unique initial tack
In fact, Hot Melt PUR bonding generally offers a very high initial tack.
Surface best finishing, especially with thin thickness and high-gloss finish.
Left of the picture, traditional adhesive coating.
Right of the picture, "mirror" finish of HMPUR adhesive coated by our HGS-RC, which eliminates any surface deformity making it perfectly planar.
High heat resistance and great impermeability.
HMPUR glue acts as an insulator and protects the finished product against external elements such as water, humidity, heat, etc.
Possibility to stick together different types of materials.
Plastic laminates, metal, wood, XPS, glass, etc., in order to be ready to satisfy the new requirements of the market, or to suggest alternative products.
Durability and irreversibility of the bonding process.
Crosslinking takes place in a few hours only, depending on the bonded materials.
OMMA is the first manufacturer of roller coating machines for Hot Melt adhesives in Europe!
First in Europe, Omma has believed in Hot Melt Process, supporting the traditional production with dedicated glue spreaders specifically developed and perfected over the years.